Is it fair to say that mushrooms aren't a big enough part of your life? 
If it's because you or the rest of your family doesn't like them, this story isn't for you. 
If it's because you find them expensive, you don't know much about mushrooms, or you never knew you could grow mushrooms yourself, read on!
Greenwood Farm in Millville, Pa., is offering a mushroom growing class on Saturday, July 6 from 9 a.m. to 11 a.m. "It's low-tech mushroom cultivation for the average small farmer or household," said Carlyn McKee, owner of Greenwood Farm.
"Our class takes the mystery out of it," explained McKee, who, with her husband Dustan McKee, unlocked the mysteries much like you might unlock clues in an escape room. "We're self-taught," she said, "through trial and error, and that wasn't always very fun!"
Now the McKees bring the fun to you via two large hardwood blocks that will be ready to incubate and fruit a harvest of approximately 4 lbs of oyster mushrooms, plus the knowledge to cultivate mushrooms on your own.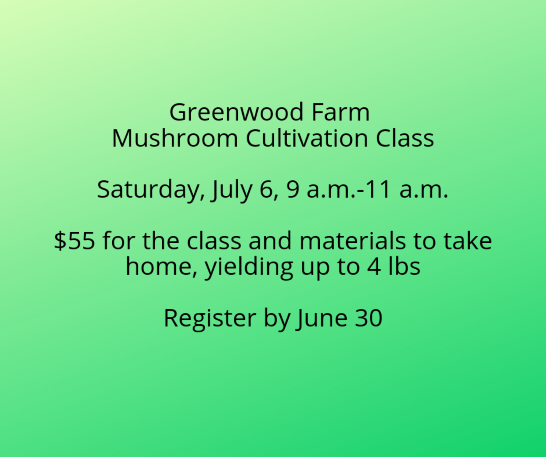 You'll learn the basic skills to keep them hydrated, to harvest, and to grow another flush from the hardwood blocks you take home, and the skills you learn growing oyster mushrooms also apply to growing other types of mushrooms as well. "The class is great if you really like mushrooms and you want to grow enough for your family, you don't want to pay retail prices, or if you have a medical condition. They're awesome for preventing health problems," said McKee.
Experts in mycology, the study of fungi, the McKees have taught classes, they grow mushrooms to sell to local restaurants and at farm markets, and have published Rewarding Mushrooms, "an empowering field guide of common edible mushrooms for urban and rural NE North America, including basic mycology and culinary tips." Dustan McKee is also a State Certified Wild Mushroom expert. 
More than mushrooms
The Mckees, who had the choice of becoming a mushroom supplier to the national food industry, or of keeping their focus local, supplying nearby restaurants and markets, decided to stick with addressing the community. They offer classes like mushroom cultivation, but also open their space for a variety of classes like writing, painting, and even a computer class for the elderly. "People in the community have come forward, offering to teach what they know," said McKee.  
To sign up for the mushroom cultivation class, visit the Greenwood Farm website. The deadline for the July 6 class is June 30. The class is $55. Future classes are planned for July 13, July 20, July 27, and August 3.
Visit Greenwood Farm at the Greenwood Farm Market on Fridays, and Williamsport Growers Market on Saturdays.