After a slow and deliberate trek, with just a few hiccups and hangups, the super load carrying a Yankee Dryer, a machine used in the production of tissue paper, arrived at First Quality Tissue in Lock Haven Monday. 
The load traveled a distance of more than 300 miles across nine Pa. counties to cover a 200-mile span, as the crow flies, making zigs and zags to avoid crossing bridges, ducking underpasses, and navigating the narrows.
The caravan that consisted of PennDOT flaggers, police escorts, utilities workers, and a host of spotters left Port Erie on December 5. A transmission problem on Saturday, December 7, sidelined the rig, and more issues caused hangups and blocked traffic on I-80 Sunday night. Otherwise, the transport was more like a parade, moving at no more than 15 mph due to the load's size, length, and weight. 
Details of the transport:
weighs 628,000 lbs

over 217 feet long 

19 feet 11 inches high 

20 feet wide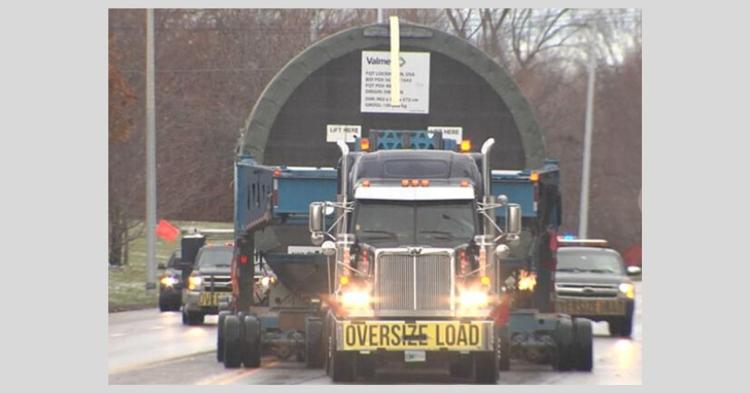 A public Super Load Facebook group dedicated to the transport of the load was created to document the journey. More than 3,000 intrigued followers have turned to the page to learn and share information about the progress, share photos, thoughts, and keep up with its slow crawl.
Now finally delivered, the "parade" has ended with much celebration and likely, relief. While one follower compared the super load tracking to watching Santa arrive on Christmas Eve, another said  the only disappointment was that the crew didn't throw candy to the crowds!