A special forum and panel discussion last week at Lock Haven University discussed ideas for a historical theme park in Clinton County based on one business professor's dream and the inspiration he gleamed from a French theme park.
The discussion featured Guillaume Ingrand, a representative of Puy du Fou, a medieval-themed French theme park that attracts over 2 million visitors per year. It is the second-most popular theme park in France after Disneyland Paris. Other guests in the discussion included Christopher Salerno from Kennywood Park outside of Pittsburgh, Julia Chain from Preservation Pennsylvania, and Dennis Greenaway, a local Medieval re-enactor.
Together and with a large, enthusiastic audience at Lock Haven University's Durrwachter Alumni Conference Center, the panel discussed the feasibility of developing a theme park in Clinton County based on the history and industry of Pennsylvania.
The discussion was sparked by Dr. Gerard Martorell, assistant professor of entrepreneurship and international business in LHU's Stephen Poorman College of Business, Information Systems and Human Services. Martorell grew up in France near Puy du Fou and has always enjoyed and admired the attraction.
"The park has a bird show with a Bald Eagles and more, a medieval town with shops, craftspeople and a Viking ship, hotels and a Roman camp that you can sleep in a tent if you wish. In 2018 there was a reenactment of a World War I battle to commemorate the 100 year anniversary," Martorell told The Express, a local Lock Haven newspaper.
The park also features a replica coliseum, chariot races, and gladiator battle re-enactments.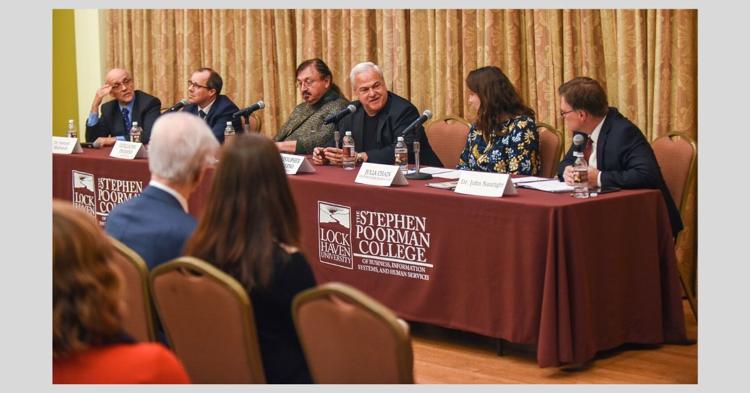 Martorell saw many similarities between the French countryside where Puy du Fou is located and Clinton County, which inspired him to personally write to Philippe de Villiers Jr., founder of Puy du Fou in France, to inquire about the possibility of representatives of the theme park visiting Lock Haven University to discuss this area as a possible site of a similar theme park.
He was pleasantly surprised to receive a positive answer.
Martorell is so passionate about the venture that he drove to New York City to pick up the Puy du Fou representatives at the airport and drive them to Lock Haven for the meetings and forum.
The forum was organized and chaired by Dr. John Nauright, dean of the Poorman College.
"Lock Haven University is excited to connect our history and heritage to the world and bring the world to Lock Haven to grow our community and economy," Nauright said.
The evening began with short promotional videos from Kennywood; Preservation PA; Pennsic Wars, a pre- 17th century re-enactment; and Puy du Fou. Each panelist then answered questions relative to their expertise.
Salerno from Kennywood explained the importance of innovation and the connection to the community in the longevity of Kennywood Park, which has been in operation for more than 120 years--even during economic down times in Pittsburgh, including the Great Depression.
"Pittsburghers are traditionalists. Two things that have kept Kennywood in business are a connection to community and innovation. Keep the old rides, but keep on innovating," Salerno said.
The recent additions of Thomas Town, based on Thomas the Train, and Steelers Country, based on the beloved Pittsburgh Steelers, has been instrumental in a resurgence of Kennywood's popularity and has drawn people from further away than ever, he said. He also stressed the idea that people often relocate or stay located in an area with a successful attraction.
Ingrand was asked how historical events would interest park attendees, and Martorell translated his responses for the audience.
He said the idea of Puy du Fou was "History Waits for You" and the spectacular shows, shops, restaurants, and other themed attractions at the park in France immerse the patrons in the action in a way that no museum could.
"Puy du Fou started as a small venue as any village might have, but has expanded to now attract 2.3 million visitors each year," Ingrand told the audience in French. It has grown the region economically through visitors, the employment of construction workers, actors, craftspeople, and other skilled workers. Indeed, Ingrand said, Puy du Fou has been an economic boon to businesses located just outside of the park in Western France. "It is now a very active region," he added.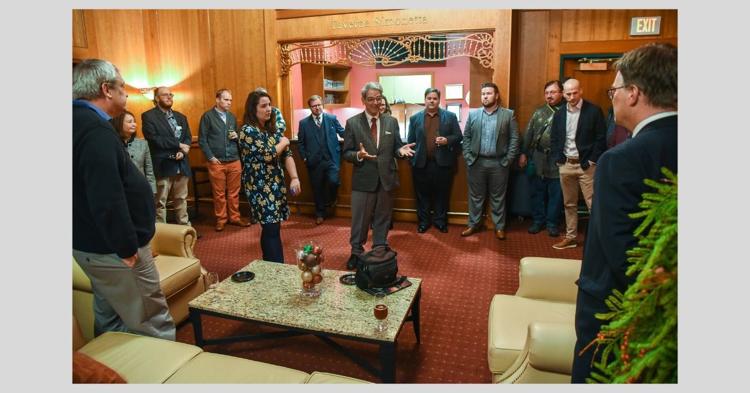 Chain stressed the use of old buildings to bring history alive because "they tell you a story." In fact, Puy du Fou was founded at the site of the ruins of an old renaissance castle in the village of Les Epesses near Cholet in France.
Chain also explained that much can be learned from the interiors of old buildings and how one small project can be connected to another small project to develop a large attraction.
Greenaway, dressed in chain mail and other period clothing, mentioned that often a taste of history can encourage a person to become interested in many aspects of an era, skills and crafts, lifestyles, and everyday life. Historical theme parks are excellent draws for families with children and school trips. He cited many such attractions in which he has had an active part, and his enthusiasm and knowledge of history is contagious.
Questions from the audience included how such parks obtain funding.
The founder of Puy du Fou declined and continues to refuse government funding because of the restrictions that would place on innovations at the park. Funding could possibly be had from corporate sponsors, small grants and personal donations. Tax credits and revenue would further the economic success after the park would be in place.
Jeff Parks, author of Stronger Than Steel, a book about the renaissance of Bethlehem, Pennsylvania, gave closing remarks that amounted to an enthusiastic pep talk. He encouraged the panel to come up with ideas, stated that creativity draws people and assured that funding will follow the ideas.
About the idea of such a park in this region, Martorell said discussions "are just in the preliminary phases."
"We must now go step by step building trust among LHU, our community and the Puy du Fou," he said. "Digesting this first meeting and developing a common vision for the future is now key. We will most probably have another meeting in the spring to set further developments. A project like this is a team effort marathon that may last four to five years. We believe we have huge assets that can help us reach the goal but we must be cautious, stay focused, and keep on pushing at all times. The reward is worth the effort."
After the forum, Nauright, with help from Parks and Chain, launched Lock Haven University's cultural heritage management program, which will work with partners in Pennsylvania and beyond, including Puy du Fou.
"In this case, again, we are just in the preliminary phases. Nothing has been decided yet," Martorell said.