Lou and Kathy Kolb have dedicated their careers to public service through media, now look ahead to retirement 
You could say radio is Lou Kolb's first love. Ever since he was a five-year-old boy growing up in Philadelphia, being on the radio was the only thing he wanted to do. Kolb, who has been blind since birth, found radio to be particularly attractive simply because he could enjoy it. 
"Blind people seem to have an affinity for it because it's something we can participate in fully," Kolb said. "At that time (the late 1950s and early 1960s), Philly radio was a top five market. There was a lot of good radio there." Kolb went to grade school with other blind children who also had an affinity for radio and sound. His love of radio continued. "I got a transistor radio when I was 7 or so. That might as well have been surgically implanted," Kolb said. 
It's this love of radio that set Kolb up for a 47-year career in broadcasting. Anyone who has lived in the Williamsport area for a long time has probably heard Kolb on the radio. Since 1974, he has been a prominent voice on several stations, including WYLC, KISS FM and Oldiez 93.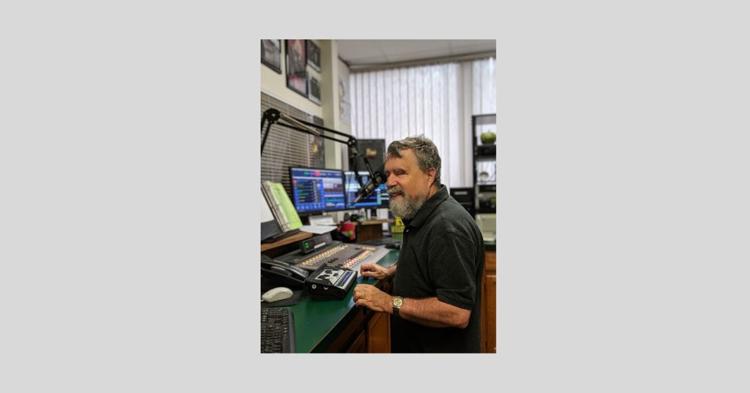 Being blind has never stopped Kolb from fulfilling his dream.  He was born premature in 1952 and went blind shortly after. "There were lots of preemies in the 1950s," Kolb explained. Medical staff tried to compensate for the infants' loss of time in an incubator by giving them more oxygen. "They didn't know it damaged the eyes." 
Kolb often functioned by "muscle memory" when in the studio.  He memorized where equipment was located. Kolb also labeled cartridges in braille. "My whole life has been about improvising because the world has been built for people with sight," Kolb said. 
He landed his first official job in radio when he was a student at Penn State University. At the time, he worked at the college radio station and part-time afternoons at a station in State College. The State College station was owned by Cary Simpson of Allegheny Mountain Radio Network, which owned many other stations in the region. Simpson was a local broadcasting figure that many young people in radio looked up to. "He gave many local radio people their start," Kolb said. 
Upon graduation, Kolb started his first full-time job at a small radio station in Salamanca, New York. The company that owned the station in New York also owned a station in Williamsport, Pa. In 1974, Kolb packed his bags for Williamsport to begin a job at WLYC (later WILQ). Though his goal was to work at small stations and eventually go back to Philadelphia to work at larger stations, life circumstances led him to stay. 
Kolb met Kathy through their mutual love of ham radio. In 1989, the couple got married. Lou started working at KISS FM in 1989 and stayed until 2011, when the parent company had mass layoffs. Several years later, he started a job at Oldiez 93, part of Backyard Broadcasting. 
In August, Kolb, now 67, hung up his headphones for good at Oldiez 93. "The business has changed quite a lot," Kolb said. "I grew up with music, but music has changed a lot since the 80s. It got a little darker." The industry also changed in the way that there is less live radio now, Kolb added. The industry eventually relied more on computerized programming. 
Another factor in his decision to retire was the fact that his wife has faced chronic illness. He wanted to spend more time with her. "There's no one I'd rather hang out with than her," Kolb said. "I got to do what I love too. No complaints about that." 
Kathy Kolb: Pioneer in electronic technology
As Lou built his radio career, Kathy was busy building a media career. Kathy, who grew up in the Watsontown area, had been interested in electronics since she was a girl. She went to Williamsport Area Community College (now Penn College) and studied electronic technology. "I was the only female in the electronics class that year," Kathy said. 
The idea of starting an internet-based company came to Kathy after she had left a job due to health issues in 1985. At the age of 25, Kathy had become chronically ill. Struggling with health problems would become a persistent issue for Kathy. 
Kathy watched as the internet become more relevant in day-to-day life, and a light bulb went off one day. She realized she could base a career on the Internet. "I thought, I can do this," Kathy said. "I can do this from home, even when I'm sick."
She started Kolb Net Works, Inc., a web design company in the mid-90s and soon gained many Williamsport area clients, including nonprofits. While working with nonprofits, Kathy noticed one recurring theme – the fact that these nonprofits were trying to get the word out about their events. However, the nonprofit events and news information was often overlooked by the local news sources. Kathy felt the local news sources were "not keeping up with growth."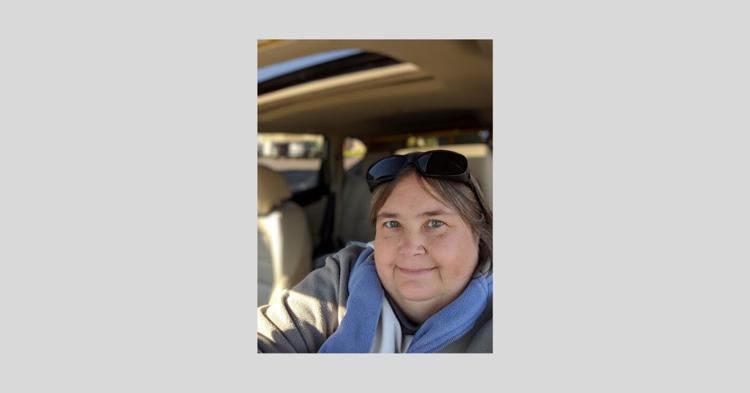 The lack of attention to nonprofit news and events gave Kathy another idea – why not start her own local news source? In the fall of 2009, Kathy started the Williamsport-based news site NorthcentralPa.com.
It was not an unnatural choice for her, as she had always loved news. "I'd always loved news and news gathering," Kathy said. "I worked on the high school newspaper, Warrior Run's Eagle's Perch. I used a satellite receiver to watch news reporters cover the Gulf War. I remember going to area radio stations with my college friends in the late 1970s and seeing the newsrooms. Back then, the main radio stations had several full-time reporters. They sent reporters to school board meetings and such. They called all the police stations in the coverage area every day checking for news stories. There was a model 19 Teletype machine chugging away in the radio station newsroom, bringing in the AP newswire with state and national news. I loved all of it. 
"At first, I thought we would aggregate local news, programming our website to pick up news from other area sites and put the stories in one place, automatically.  But we soon saw that a lot of news had to be gathered manually by a person," Kathy said. 
Obtaining news from local agencies was difficult. Many agencies were used to doing things a certain way and were not sending information electronically at the time, Kathy noted. She eventually hired an experienced reporter. She also enlisted the help of former Williamsport Sun-Gazette lifestyle editor, Robin Van Auken, to guide her as she started the website. "She had the reporter experience that I didn't have."
"We really started growing when I began to blog scanner reports to the NorthcentralPa Facebook page in real time. We gained Facebook followers quickly," Kathy said. 
The fact that Kathy could get the scanner report information out in real time set her news site apart from other news sources in the area. One of the most important events she recalls covering is the fatal accident on E. Third Street in Williamsport the night of January 12, 2014. The accident was caused by former Williamsport Bureau of Police officer Jonathan DePrenda, who was speeding in his cruiser on his way to assist another officer when he hit the vehicle of James Robinson, killing him at the scene. The impact pushed Robinson's vehicle into a utility pole at the corner of E. Third and Railway streets and a fire broke out. "That was the night it all came together because we were only a couple of blocks away and our power went out," Kathy said. She continued to blog on the Facebook page that night to make readers aware of why power went out in the area. 
Another event Kathy recalls covering is a drowning near the Antlers boat launch in Woodward Township. It was a Saturday and she heard the call go out over the scanner for a water rescue. Kathy went to the scene. She was the only reporter there. "I saw the officer come in and give the report that a body had been found. And I saw a woman collapse to the ground," Kathy said. It was one of the moments that reporting the news became emotional for Kathy. 
Kathy continued to work many weekends and evenings blogging and posting information on accidents, fires, power outages, water rescues, flooding, road closures, and any other local news of interest. "News is 24/7. It always struck me that there was so little news over the weekend," she said. 
As the website continued to grow, Kathy posted more local events on the Facebook page. Readers turned to NorthcentralPa.com for information on weekend happenings such as grower's markets, fairs, festivals, benefits, and more. She also put posts on Facebook asking readers to share their sunset photos. "We were creating community. It gave people a chance to share their local experiences."
Community is very important to Kathy and creating that sense of community was one of her goals from the start of NorthcentralPa.com. "I really felt strongly about local news and about tying community together. It's so very important, so very important for the community."
Staff has grown throughout the years as well, to assist in getting timely news and events information to the readers. Several part-time reporters joined the news team. Several staff members collect district magistrate and court reports. 
By 2016, NorthcentralPa.com had grown so much that Kolb decided to sell Kolb Net Works, Inc. to concentrate on news. The site had gained more than 30,000 followers.
Her hard work has not gone unnoticed. Earlier this year, Kolb was recognized as one of the Top 100 people in business by the Pennsylvania Business Central publication. Kathy was recognized among a list of men and women in the central Pennsylvania region who was able to develop her business and community. She was the only woman in media recognized on the list, and had been the only female owner of a newspaper in the Williamsport area for quite some time.
As an enterprising reporter and business owner, Kathy felt at times her being a woman was a hindrance to obtaining news from certain agencies. However, she developed many key relationships during her 10-year ownership of NorthcentralPa.com.
When Lou told her earlier this year that he was going to retire, Kathy decided retirement should be her next step as well. Health issues and chronic fatigue had made life difficult for the past 30 years. She needed more time to address the health issues. And she felt that she had taken NorthcentralPa.com as far as she could – a new owner with more time and energy to dedicate might be able to take the new site to the next level. In May of 2019, after building the resource for ten years, Kathy sold NorthcentralPa.com. She doesn't regret the decision, though her love of her readers and for local community will always be there.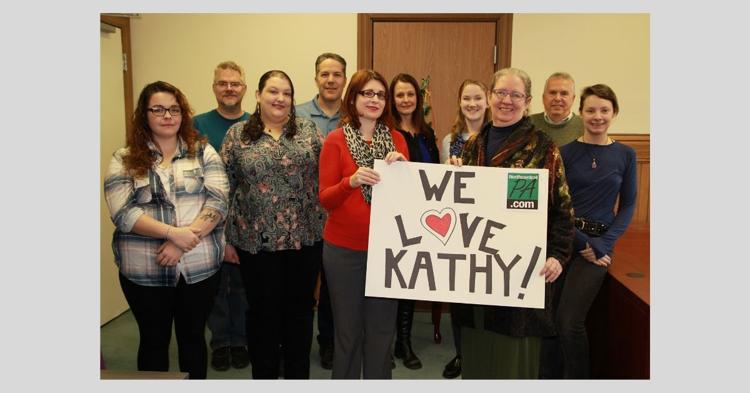 "I care about people and the community they live in," Kathy said. "I care about them a lot."  Does Kathy miss her readers? "I think of them constantly, every time a siren sounds."